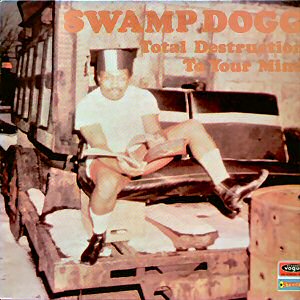 Swamp Dogg, aka Jerry Williams, is a funk and soul performer with a truly bizarre edge to his work. He cuts a unique figure on the musical landscape, somewhere between Frank Zappa and James Brown. He has always been a popular songwriter for other people, but his own work has been considered to left-field for general consumption. That's a real shame, considering just how damn good a lot of it is.
Considering the man was influenced in equal part by the aforementioned Soul Brother No. 1 AND Frank Zappa, you can expect what you'll get is both incredibly funky and also incredibly strange. Only Swamp Dogg would release funky soul tunes with titles like "The Love We Got Ain't Worth Two Dead Flies", "I Couldn't Pay For What I Got Last Night". "Santa's Just A Happy Fat Fart" and ""Choking To Death (From The Ties That Bind)". Usually his album artwork is pretty funky and odd too, but the music is killer.
With titles like the ones above, you can pretty much bet his music was all but doomed to fail. However the man is held in high esteem by almost everyone who has heard his music.
Here below is a scorching live version of one of his first soul hits under the Swamp Dogg moniker, "Total Destruction To Your Mind".
Check it.