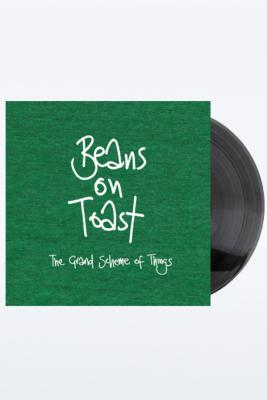 What we have here is the sixth annual release from Beans on Toast, released yesterday. He seems to be as regular as clockwork, releasing an album every year in late November or early December. Yet again, the British anti-folk singer has delivered another set of tunes in his own inimitable style.
For those who are unfamiliar with Jay (aka Beans on Toast)'s work, imagine a scruffier (if that's at all possible) early-era Billy Bragg-styled singer songwriter who is no less passionate but far more pointed and acerbic. If folk music is designed to be left-leaning, Jay profoundly rattles the cages of conservatism such as to completely offend and turn away anybody who can't see past the end of their own opinions. He's a folk singer who is passionate about what he does, stands up for what he believes in - and if he finds himself to be wrong he stands up and admits his failings. He simply calls it as he sees it.
He makes no bones about his own perceived lack of talent, and I admire that. But that's precisely the charm of this, and what folk music is all about. It is music of the people. A simple music that doesn't require huge amounts of technical skill, but gets the message out to those who want to (and probably a lot more who should and need to) hear it.
I've been following Jay's music for a while now, starting with the mammoth 50-track debut album "Standing on a Chair". Jay and I don't see eye-to-eye on certain issues, particularly around tobacco and other drug use (although I'm very glad he's given up all the substances now). However there is a noticeable conviction in what he sings about, as well as a wicked sense of humour.
The latest album "The Grand Scheme of Things" gives us more of what Jay does best: one man, a guitar, and delivering equal amounts of vitriol and sentimentality with plenty of fire in the belly. Certain tracks on the album deviate from the folk base and incorporate country elements similar to those on the second album "Writing On The Wall". He even dabbles in a type of off-the-wall, New Orleans Trad Jazz on "Nola Honeymoon".
The targets of Jay's anger this time around are as deserving as ever: Inhumane chicken farming, the UK Independent Party (UKIP), Young people's inability to connect with nature, the vacuousness of war, inner city gentrification. However, probably his most disturbing tendency of late is to take a shot at those who won't give him a chance. Like the Glastonbury festival on his last LP "Giving Everything", this time he takes aim at the insular mainstream Country Music fraternity in Nashville on the elegantly named song "F*** You Nashville". It goes without saying that, while one can understand his frustrations, writing a song like that isn't going to make anybody change their minds about him.
Mixed in with that is some beautifully written and passionate songs dedicated to mateship across generations ("Flying Clothes Line"), the joys of home cooking ("Lizzy's Cooking"), being a DIY performer ("Folk Singer"), and the excited anticipation of the new year ahead ("NYE").
Speaking of "NYE", in the songs dying seconds Jay sings "Welcome to the last verse of the album, I'd be amazed if anybody got this far...".

For the record, I did. And it was fun, too. It was no more or less than what I'd expected.
This is not a record laden with studio polish. It is rough round the edges, like I imagine Jay Toast himself to be. Through the murk you get a raw earnestness and passion all too rare in modern music.
Be warned that Jay's sharp tongue means that this isn't a family listening album, although there are noticeably fewer choice words on this album than on the previous ones. And as mentioned earlier, anyone on the right wing of the political debate should be prepared to be shocked and offended too. But bring an open mind to the issues discussed within and there is plenty to be gained from a few listens.
Recommended. Be challenged and inspired.