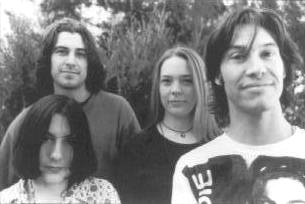 Godstar are one of a handful of guitar-pop bands whose work is so ingeniously simple and catchy that it makes me want to start a band and write music again.
Formed by Half a Cow label owner Nic Dalton, the band features a revolving door line-up of musicians including Evan Dando of the Lemonheads and various members of Sydney bands such as Smudge, The Plunderers and The Hummingbirds. The songs are short, sharp and insanely catchy, with loads of fuzzy guitars and vocal harmonies.
The overall impression one gets is that the music is quickly recorded and mixed, without too much attention to bum notes or slightly off harmonies. It's all a little rough around the edges, but that's what makes it endearing. It's all recorded in various Sydney recording studios with whoever is around at the time. What you are left with is a bunch of great songs wrapped up in a neat package for maximum fun.
The band have released two studio albums in the form of "Sleeper" (1993) and "Coastal" (1995), as well as copious amounts of seven-inch vinyl EPs and singles and a few compilation albums before calling a day in 1998.
All are available from the Half a Cow label website.
Nic has also been involved with many other bands since, such as Sneeze, and the Gloomchasers among others. Pretty much, the name "Half a Cow" can be taken as a trademark of quality - anything you find on that label is worth listening to, but start with the Godstar releases and go from there.
Check out some of the bands highlights below. Enjoy your Sunday!