The first Ramones LP. Tommy Ramone, second from left.
It was with some sadness that the world received reports of the passing of Tommy Ramone. It's one thing for a musician to die. But what makes this one remarkable (and not necessarily in a good way) is the fact that Tommy's passing means that all the original members of the band are no longer. Vocalist Joey Ramone was the first to go in 2001, followed by bassist Dee Dee in 2002, Johnny in 2004 and now Tommy.
Love them or hate them, The Ramones established the format for punk music for the next few decades. We're still hearing echoes of the sound now, if not always in sound, but in energy and in spirit from the likes of Green Day, Descendents, NOFX, The Donnas and heaps more..
Tommy Ramone, or Tommy Erdelyi to his mum, was truly remarkable in as much as he wasn't supposed to be the band's drummer. He was their early manager, booking and organising the gigs and rehearsal spaces. When auditioning drummers, he was forever showing the prospectives how to play the songs. Eventually it became tedious as no-one they tried could quite get the feel right, Tommy just played the drums himself.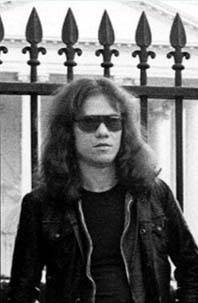 Tommy played on the first 3 Ramones albums, as well as co-producing the first 5 of them. He also managed the band during those years. He'd tired of touring and vacated the drum stool before "Road To Ruin" was recorded. He went on to produce records for The Replacements (the essential album "Tim") and Redd Kross ("Neurotica"). Tommy was also instrumental in getting The Replacements signed to the Sire records, home to the Ramones.
It could be argued that Brisbane band The Saints established the punk sound first. And maybe they did, but the Ramones were doing the same thing on the other side of the world, oblivious to the other, and were the first to commit the sound to vinyl. Regardless, the world is a better place for the contribution of the Ramones in my view.
The first Ramones LP, with the surviving members
And now all the original members of the band that launched a million more are no longer with us. As with most of these things, it is inevitable, but it still sucks.
Vale Tommy. Thanks for the music.